Dinkles Vanguard™ Marching Shoe
$40.95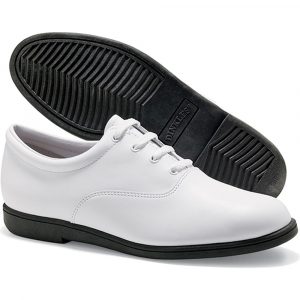 Description
The all-leather upper and countertread rubber sole is the standard by which all others are measured. Medium width. Wide widths available in Men's 6 1/2 to 11 1/2, 12, 13, 14 and Women's 8 1/2 to 14 (see order drop downs above).
FULL LEATHER UPPER with a microporous finish that allows feet to breathe. It's scuff resistant, breathable, water-resistant and easily cleaned.
Special Rubber Blended (TPR) Sole for superior traction on all surfaces.
Cotton Vamp Lining for dryness and comfort.
Runner's Ortho Cup – contours to the foot to cushion every step.
Triad Heel designed for corps-style marching and to eliminate heel wobble.
Available Sizes: Mens 3 1/2 – 16, Womens 5 1/2 – 14